Like many of you, we have have been enjoying some of the latest election maps in the wake of last weeks election results.  We thought we would share a few, in case you haven't seen them yet.
The New York Times once again has created a number of excellent post-election static and interactive maps, their election results maps allow you to investigate results to the county level, and to view the shift in party voting by county compared to the last four elections.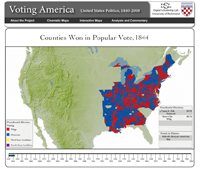 The Digital Scholarship lab at the University of Richmond has created "Voting America: United States Politics, 1840-2008" which contains a terrific collection of map animations and interactive mapping applications for every presidential election since 1840.

Mark Newman, a professor of physics at the University of Michigan, has converted the traditional red/blue maps into cartograms – distorting the areas of states and counties to reflect the relative population.

Want to create your own election maps?  EDS can help you get started with United States Presidential Election Results for recent elections in Datagate,  and various boundary files that can be downloaded through our Spatial Data Catalog.

This entry was posted in