Laurence Cossu-Beaumont, Professor at the Université Sorbonne Nouvelle, recently visited the RBML for his project, Two Literary Agents in the American Century: William and Jenny Bradley, Transatlantic Cultural Passeurs (Deux agents littéraires dans le siècle américain: William et Jenny Bradley, passeurs culturels transatlantiques, Lyon, ENS Editions, 2023). Professor Cossu-Beaumont's work draws on previously unexplored archival material to investigate the Bradley's work as literary agents based in Paris, where they also played host to a literary salon that attracted James Joyce, Gertrude Stein, and F. Scott Fitzgerald. Read below to learn more about the role the Bradleys played in 20th-century transatlantic literary circulation and the history of publishing.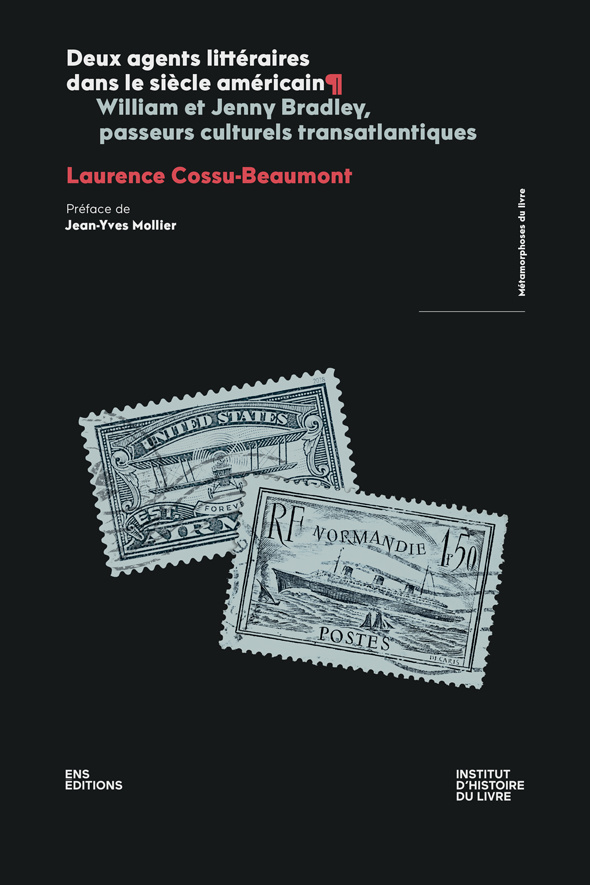 What brings you to Columbia's Rare Book & Manuscript Library? 
Bradley was a graduate of Columbia (1899), a campus newspaper editor (The Columbia Literary Monthly and The Morningside) and one of the founding members of the Columbia University Club (1901). His widow, French literary agent Jenny Serruys Bradley (1886-1983), thus donated his personal papers to his alma mater.
Two other collections were of interest to me: The Helen Worden Erskine Papers. Worden Erskine was a journalist who gathered extensive biographical material to write a volume on Jenny Bradley that she was unable to complete; and the correspondence between Jenny S. Bradley and poet and playwright Susan Sherman.
How long have you been coming to the RBML?
 I visited the RBML reading room and looked at the material on two research trips from Paris to New York City: in the fall of 2017 in the early stages of my project on the Bradleys, when I was contemplating the possibility to write a book about the literary agency, and in the summer of 2022, once my book was written to check some additional material and verify information before handing the manuscript to the publisher.
What have you found? Did you come here knowing this material was here?
 The William A. Bradley collection includes his early poetry, translations and writings and helped me understand Bradley's formative years at Columbia as well as the network he formed while a student and newspaper editor there (writer John Erksine, future Columbia dean and assistant secretary of war Fred Keppel or NAACP leader Joel Spingarn). I had no idea what I would find but received very gracious help from library staff to try and map the scope of the material beforehand and best organize my visits. I found the expected correspondence but also items like private photographs of Lieutenant Bradley upon his departure to Europe in the First World War or of the couple after their wedding, or even passports and medals I had not expected to ever lay eyes on. With the agreement of the right-holders I was able to include these photos as illustrations in my book.
What have you found that's surprised or perplexed you?
What perplexed me considerably, and almost dissuaded me to pursue in 2017, was Jenny Bradley's apparent negligence: she seemed forgetful of her career and of the luminaries she had be the agent of although Truman Capote had described her as "the number one literary agent in France for American and English writers […] a formidable handsome woman with a great sense of style and distinction". I was unsettled by her hostility towards her interviewer Helen Worden Erskine, although the two were long-time friends. I later found out, from my extensive research in other archival funds and from the reading of numerous letters she wrote throughout her life, that she had been an extremely efficient agent and a warm person. But she had been reluctant to the project of a biography, and had grown unconvinced and more reluctant as it unfolded. So, in 2017, based on isolated archival material I had doubted the Bradley agency could be book material. Eventually, the RBML's collection of Erskine's interviews and drafts proved immensely valuable and pointed to the key directions I needed to investigate further through other sources.
What advice do you have for other researchers or students interested in using RBML's special collections?
Expect the unexpected and be prepared for the research project to perhaps change course. You may have hypotheses and blueprints but the archival material may decide otherwise. In the end, I wrote a book, not only on a business whose role of mediator of transatlantic literary circulation I was able to unveil, but also a narrative on a resourceful and resilient woman. Jenny Bradley carried on the work of her leading agency after her husband passed, and took me (and the reader) into the social world of the salons, from the Parisian Left Bank to the Riviera, and then on to the shores of America, the destination of transatlantic ships carrying books, letters and travellers.