Access the course reserve materials for your classes in multiple ways.
CourseWorks, two ways:
Get to all of your Course Reserves by clicking on My Libr. Reserves from your My Courses page: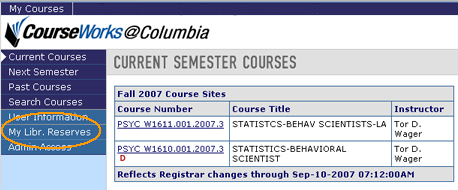 Or, find the Reserves list for a specific course you are taking by clicking Libr. Reserves from the Course page:
CLIO: Use the "Course Reserves" tab to get to your Course Reserves
Libraries web site: go the the Catalogs menu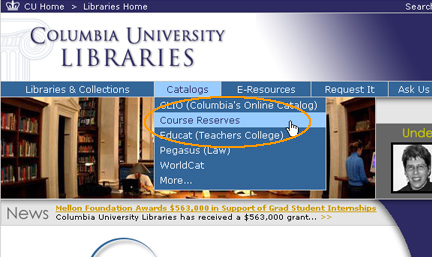 Once you're logged into Course Reserves, you'll see
My Course Reserves lists: When you logon, all of the courses for which you are registered will be listed with their corresponding course reserves lists.
Author field: The default arrangement is by author's last name.
Sorting functionality: Sort on any field by clicking on a column name.
You can also view reserves lists for courses you're not taking. (A good idea when considering which classes to register for next semester!) Use the Browse all reserves lists feature to find reserves lists for all current courses. Only courses that have a reserves list associated with them will appear in this section. Keep in mind that access to E-reserves materials is limited to members of a particular course.
Have a question about your Course reserves? Ask a librarian!