Columbia University's Rare Book & Manuscript Library has acquired the papers of social policy author, advocate, and Columbia University Professor of Social Work Dr. Alfred J. Kahn. The papers were donated by Kahn's daughter, Nancy V. Kahn, and include many of Kahn's policy proposals, research material, and business papers. The collection offers invaluable insight into both an important career and the development of state and federal child welfare policy in the 1960s and 1970s.
Born in Brooklyn, Kahn graduated from City College before serving in the military's first mental hygiene unit during World War II, where he studied the relationship between childhood truancy and soldiers' capacity to endure the stress and trauma of war. Returning to New York City after the war, Kahn received a Masters Degree from Columbia University's School of Social Work, where he served as an instructor before receiving the first doctorate in social welfare ever given by the University.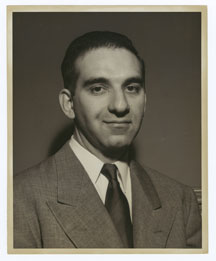 Alfred J. Kahn c. 1952
During his more than 35 years of teaching and scholarship at Columbia, Dr. Kahn served as a consultant to local, state, federal, and foreign governments on issues ranging from family policy to cash and service programs. While teaching, Dr. Kahn authored over fifty books and over three hundred articles, many of which had a deep impact in shaping social welfare policy during the formative years of President Lyndon B. Johnson's 'Great Society' Program.
Dr. Kahn also worked extensively as consultant to New York's Citizens Committee for Children (CCC), an influential non-profit children's advocacy organization. With the CCC, Dr. Kahn authored over 15 studies of city and state programs related to truancy, youth, policing, and child guidance programs for troubled children and his widely publicized findings offered blueprints for reforms across the country.